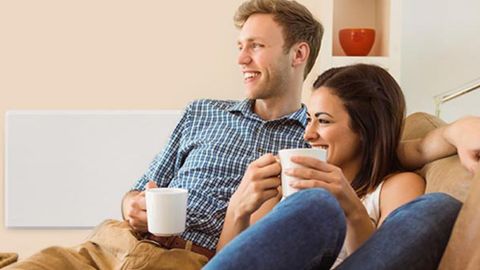 Whatever your style, Scandi heating is for you
2 min read
Since the beginning of the IKEA furnishing frenzy days, Aussies have lived for Scandinavian design. You might not even be aware you've been following the trend - do you steer towards natural woods and lots of crisp, clean whites? Or are you a minimalist who adores a calm and collected space that is functional at the same time?
Scandinavian Design is characterised by having a calming style - white, neat and simple as can be. It's pretty easy to see the connection to the Oslo range of panel heaters.Their bare white design allows for a heater that is practically unnoticeable, yet enhances the minimalist style you are aiming for, easily co-existing with your other furnishings. The panels' arc is only 5.5cm thick so they don't protrude unnecessarily and take less space. With an IP24 rating, you can even use the heater in the bathroom to continue your aesthetic throughout the entire home.

The IP24 of Oslo panel heaters allow you to place them virtually in any room of your house,even bathrooms, to carry your style throughout. The Nobo Oslo panel heaters come with castors for portability, or can be wall mounted without the need of electricians. Oslo panel heaters are perfect for homeowners and renters alike. They can even be installed behind furniture, where other heaters cannot, because of their clever top venting. Or you can attach castors so they can be moved from room to room.

We've already seen the nights get as cold as -8.5°C before winter even hit us! But you don't need to worry about keeping warm; our heaters are named after the capital of Norway for a reason. Oslo panels are designed with dual heating technology so they can withstand even the coldest of winters Scandinavia has to offer. Don't worry about keeping warm, your Oslo panel heater is designed to withstand temperatures as low as -40 degrees Celsius.

Oslo panel heaters follow this idea of Scandinavian design so you can heat up your home and have the interior you want. Regardless of whether you're a minimalist or contemporary enthusiast, homeowner or renter, you can now have a heater that suits your home design while keeping you warm - that's the NOBO Advantage.