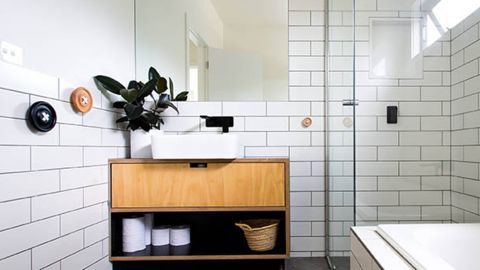 Turn your bathroom into a Scandinavian Sanctuary
3 min read
Decorating your home with Scandinavian style has become very popular recently. There's no surprise here though, since the main characteristics of this trend include minimalism and functionality with an obvious touch of individuality and personality. Love of nature is also present, which goes perfectly well with sleek lines and bolder forms. However, designing your bathroom with this particular trend in mind might not have been the first thing you decided to do when redecorating your home. After all, bathroom work always seems a bit more complex and difficult. Still, you can achieve amazing looks by following some simple rules, regardless of the size of your bathroom. If you want to learn more about what you can do, read on.
The colour palette
In general, Scandinavian décor style is all about clean look. In that respect, light and pastel colours are always a perfect choice for a Scandi-inspired bathroom as well. However, you also have the freedom of adding a bit of extra something to the final look by pairing the lighter shades with black. Also, marble tiles can look especially elegant and sleek. In case you're not ready to invest in marble tiles, self-adhesive, waterproof vinyl wallpaper with marble pattern can be the perfect solution. This is especially true when you use it as an accent piece.

Maximise the space you have
Since Scandinavian décor trend is all about minimalism and functionality, you want to make sure that you have plenty of space in your bathroom as well. If possible, replace the vanity and floor cabinets in your bathroom with floating vanity, wall shelves and basin. Of course, you don't have to do that if you find that floor cabinets are more practical for your particular bathroom. The main point of utilising your wall space and organizing your storage is to keep the clutter and products out of sight. With minimalism as its premise, Scandi décor style is all about mess-free space. Therefore, try your best to properly store the products you keep in your bathroom.

Additionally, big or small, bathrooms could be tough to heat. In order to provide the optimal temperature in your bathroom, you would either have to place a heater or install wall or floor heating. The latter requires some major renovations, while the first option sounds quite doable. However, since the Scandinavian design requires minimalism and clean sleek lines, you have to be careful when choosing heaters. Luckily, NOBO offers a perfect solution with their high-quality heaters and many of their advantages. They can be mounted on walls, which frees up plenty of floor spaces, looks like an accessory to your bathroom and provides comfy temperature. What is more, they come in a gentle white finish that won't disturb the soothing design of the Scandi bathroom, while their installation is simple and inexpensive.

Spice things up
Natural materials such as stone and marble are the usual part of Scandi décor. However, you don't have to stick to the matte finishes of these materials. Actually, mixing the matte and shiny finishes is a great way to make your bathroom interesting in a way that's unique to your taste. You can go with all-matte or all-shiny finishes as well as effectively mix them up – it's up to you how you want to do this. Moreover, there are special waterproof metallic spray paints in different finishes and shades that you can use for an extra touch of polished sophistication in your bathroom.

Think stylish and simple
The simplicity of Scandinavian style is never too dull precisely because the simple lines of the bolder forms present a statement themselves. In that respect, you don't need too many details in your bathroom in order to achieve that perfectly balanced and clean, yet warm look. For instance, the usual practice is to ditch the shower/bath curtain. A shower is sometimes a part of the bathroom floor or it has see-through, glass doors. On the other hand, opting for an elegant freestanding bath is definitely one of the most popular choices when going for the statement Scandi look in your bathroom. Just remember, the sleeker and more modern the bath is, the better – you don't want to include too many intricate details.

So, what can you do about the little details and accessories in your Scandinavian-inspired bathroom? As mentioned, you can use marble pattern, as well as interesting containers and jars, to make things more interesting. Moreover, you can play with a pop of pattern with certain bathroom essentials, such as bathroom/laundry bins and even towels, if you want to display them. Most importantly, don't fear the plants. Even if you decide to go for the faux ones, a sleek and tall plant with a statement pot is definitely a great way to make this space more relaxing and personal.